About halfway through Fiend: A Novel
, I thought, fuck, what am I doing. I'd sworn off drug abuse fiction after Aronofsky's Requiem for a Dream
. Christ, already. I get it. Drugs are bad. (And before you go humorless on me, understand that I'm kidding about "drugs are bad" being the PSA of Requiem.) But good thing Greg sent me a message alerting me to the existence of this, because it's also got zombies and it's set in the Twin Cities, two things I pretty much adore when they're done right. This does them right, in my humble, undead, Midwestern opinion. I always fucking knew St Paul was full of zombies. (Minneapolis might be too, but our heroes never venture to my side of the river.) 
Chase is coming off of a week-long tweak when a little girl tears the throat out of a Rottweiler, then attempts to eat his face off too. Being on the end of a meth binge, he's not so sure she's real until his friend Typewriter caves in her skull and sets the house on fire. Like 28 Days later or Rick in Walking Dead, Chase and Type have missed the zombie apocalypse in their altered state: turns out everyone died one night, and then the next day, a bunch of 'em got back up. Following the odd, but mostly unbroken convention in zombie lit, no one calls them zombies. Because the zombies giggle – which is hugely ominous at points, all this soft laughter coming from god knows where, or loudly from behind a straining door – the band of survivors call them Chucks. For the chuckling, you see. And the really fun part: only people high on meth, and continuously high on meth, survive the zombie apocalypse. The tweak shall inherit the earth.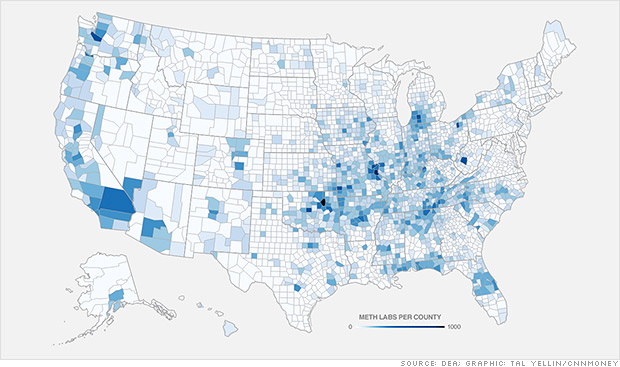 Concentrations of meth labs in the US. 


The voice is first person, with a stripped down punctuation and almost stream-of-consciousness. I say almost, because its really more stream-of-highass-award. This sort of damaged-by-drugs narration can grate, I find, often taking the lazy way out when it comes to control of the prose or the tone. I found Stenson to be quite good at both, and he just did a masterful job of vacillating through the extreme highs and lows of the junkie. There was a lack of affect and incuriousness running through even the highest sections, so that it wasn't too precious either (a problem sometimes in druggie lit, I think). Lots of body horror, juicy, yucky descriptions, and repellent metaphors. The horror went comic a lot too, because bodies are funny as often as they are gross. The lack of quote marks on the dialogue was cool, running it so that you sometimes can't tell if Chase said it or just thought it real loud, and it's not like he knows or anyone is really listening anyway. The obvious analogy to make here is The Road, but I think it's much more like The Reapers Are the Angels in terms of use of dialect, idiom, and genre pulpiness. (Though this isn't nearly as stagy or ponderous, for better or for worse.) Certain punctuation won't survive the apocalypse, apparently; literacy is as cooked as the meth when you're dealing with zombies. 
I also really liked the local setting, because I totally know those kids from White Bear Lake – called, uncharitably but accurately "White Boy Lake" around here – who come rolling in with their privilege and rebellion, and then acclimate to the leveling effects of a decade of being strung out. The Hmong cook certainly has some shit to say about Chase and his ilk, and the demarcations of the neighborhoods and landmarks comes from someone who hasn't just googled that stuff. Locals, heed this passage:
At Summit, the apex of our shitty little town, stands the governor's mansion with its slabs of imported stone and then the Summit Club, and I picture F. Scott sitting in there writing about Bernice bobbing her hair. From this elevation we can see West Seventh, the flats of St Paul, where we see poor white Chucks shuffle around, tiny as ants, each and every one of them unified in their singleness of mind. Beyond them, across the Mississippi, not really visible, streets like Chavez and Independence, the skin once again darkening. Our city: each neighborhood segregated, first by economics, then by race. Each neighborhood now hosting its own walking dead, its own hidden pockets of shit-smoking motherfuckers trying to find the next hit.
I almost has the fury of Colson Whitehead's final pan of a zombie New York in Zone One, but St Paul isn't New York, and Mark Spitz's averageness is a different coping strategy than being fucked up. Whitehead's protagonist Mark Spitz could never get up to the grandiloquent bullshit of a junkie, the sine waves of hope and despair; Chase would never ruminate with such urbane disconnect. There's no taxonomy of survival narrative, just a sloppy, ugly existence from one hit to the next. Plus, really, fury isn't a Midwestern thing when you get down to it. These autopsies of cities are personal things, and I respond to that personality immensely. I can see my house from here. And it's on fire.
I thank Netgalley heartily for the ARC, and apologize if I'm not supposed to quote.