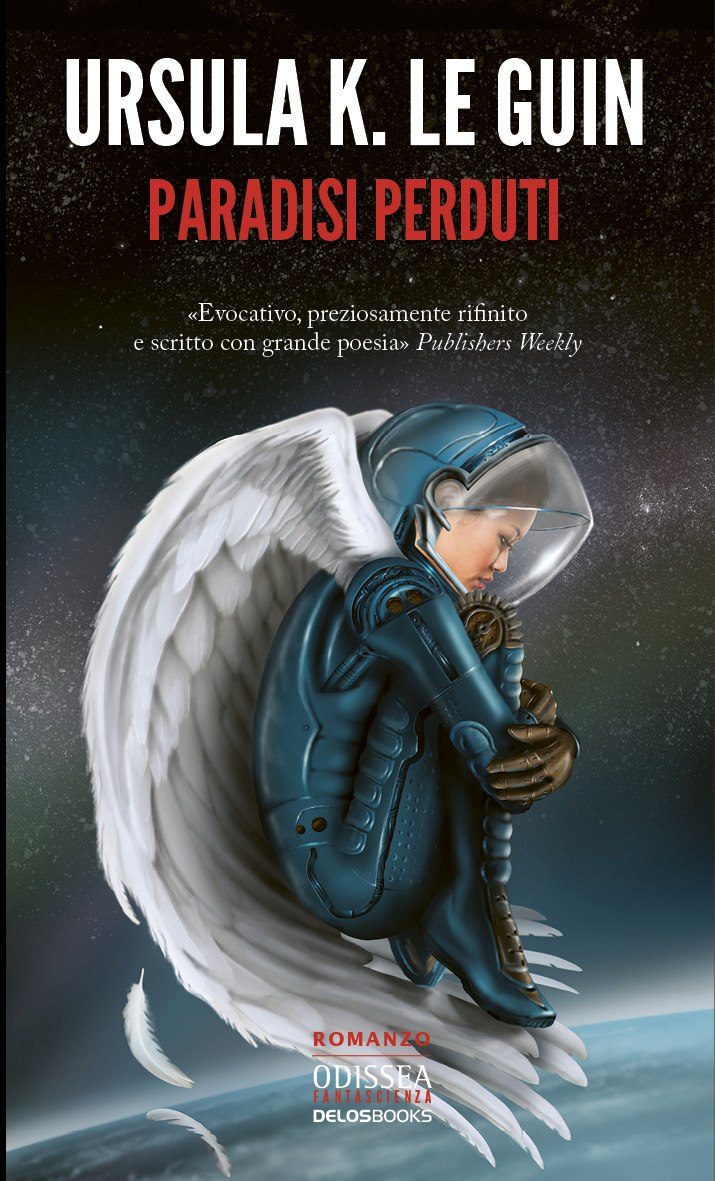 The Italian cover for Paradises Lost,
the generation ship novella by UKL
The whole concept of the generation ship flips me out. I'm not even that comfortable with the idea of being on a spaceship (or a submarine) not because of claustrophobia, but because is there air out there?? NO THERE IS NOT. I just spent nearly four days in a blackout that had me boiling water for baths and kiting power from the neighbors (who had power due to the inexplicable ways of the city grid), and I'm keenly aware of how tenuous our systems are, how it took thousands of technicians pulled from as far away as Colorado to get me back into hot water and an icebox. And with my power outage I won't be screaming silently into space as my lungs freeze. 
While most stories occurring on generation ships don't focus on the technological fragility of a ship ginned up and sent out for hundreds of years into the void, that trapped and helpless feeling is in everything. Here are a thousand people whose living space was chosen for them, irrevocably; there will be no technicians from Colorado when things go wrong. Power structures, of all kinds, must be managed and cared for by people whose lives are by needs insular and rigid. Everyone must do their part because the alternative is not chaos, but death. (Just as a sidebar, this argument gets made politically here on Spaceship America a lot, which is part of the reason that the extremity of the generation ship resonates for me so well. Just because all members of society must contribute what they can doesn't mean injustice has to be a part of that contribution, etc.) 
Starglass starts, fittingly, with the letter of one of the first generation, the earth-born who left a doomed planet Earth, writing to her daughter about her lost planet and the unknown future. I kinda don't get book trailers – or maybe it's just the ones I've seen are a little dopey – but this book trailer captures the elegiac tone quite well. We then meet 12 year old Terra on the morning of her mother's funeral, the very beginnings of the grief and fracture which will color all the events of the novel, the relationships and personalities. 
The heart of this novel is grief, and as such, it makes for a more musing and introspective young adult novel than I think is typical. We meet Terra again at 16, on the eve of her graduation, where the government of Asherah metes out the living assignments for the graduating class. Her home life has turned into a cold war punctuated by emotional violence, an emotionally distant and voluminously alcoholic father clinging to his concept of societal 
mitzvah
 in lieu of real parental connection. The dad kind of killed me, the way it seemed obvious to me that on some level he loved his daughter, but he was so badly broken that it came out in these awful, inexcusably cruel ways. That I can have sympathy for him and still hate him and the things he does to Terra speaks to subtle characterization, this horrible, sad, broken, dutiful man who has pasted himself back together using his most selfish instincts. 
As befits a coming of age novel in a locked room society – remember, there are no technicians from Colorado – much of the plot centers on Terra's growing political sense as she adjusts to her new work life. (And her work placement is an almost clustercuss of mistakes and silences that flow out of her learned self-containment as a result of her mother's death. Say it with me: the personal is the political.) The people of the starship Asherah are Jews of a post-apocalyptic diaspora, who are, in a way, looking forward to yet another diaspora when they reach the new chosen land of their target planet. That day is coming soon, and the tensions between various factions, who will lead, and who has the right to all comes to bear not just on Terra, but everyone around her in ways that are confusing and personal. 
I feel much more closed-mouth about books I review beforethey are published, so I will just gesture to my contentment about how Terra manages her romantic life. The society on Asherah is rigid in the ways it constructs family life – everyone will marry, and have two children, a girl and boy, when they are told to do so – and that this does not and cannot work for many is maybe only a surprise to the young, who have been locked into their own family failures, cut off by silence and fear that they are the only ones. Here on starship My House, I have a girl and a boy and a husband, and a series of conflicts that I live with without ever updating to facebook or disgorging to the uninitiated. We lock ourselves into our choices and habits, and some of those choices are beautiful, and some of them abrade, and we pick our ways between the two as best we can. 
Anyway, as a conclusion, I just want to note that, as much I loved the shit out of the careful, grieving tone of this story, the personality driven conflicts, and the slow understandings that unfold, as the first part in a duology, the ending might be abrupt for some readers. Really though, it is my firm belief that in young adult novels, the leap is as important as the landing, and Terra's leap is a sight to behold. I'm more than interested in seeing where she lands, but I'll hold her there, in the darkness, struggling towards the promised land. 
Full disclosure: I am friends with Phoebe North on Goodreads, and I received an ARC from the publisher, but no cookies were promised or exchanged for my review or opinion, which is decidedly my own.